Pet Loss Memorial Crystal
This beautiful crystal contains a keepsake amount of your pet's ashes or a lock of their fur. The crystal creates rainbows when it catches the light – a reminder from the Rainbow Bridge of the love your pet brought into your life.
Shop Now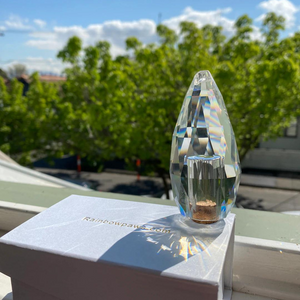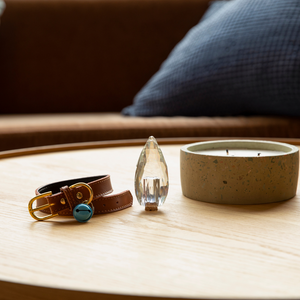 The Perfect Gift
Dealing with the death of a pet can be a devastating experience. Our loss of a pet memorial gift can help ease the pain of loss. The crystal brings comfort to the heart of anyone grieving for a pet.
What Our Customers Are Saying
Beautiful!
"I love that I can choose to either sit it on a shelf or hang it next to my window. I was able to put a string through the top to hang it next to my window. My sweet fur baby Foxy passed away at the age of 17 and seeing the rainbow reflect on to the wall when the sun light hits her new urn makes just brings joy to my heart. You can't fit a lot of ashes in there, but it's still a great product. I highly recommend if you are sharing ashes with someone or for someone that just lost their fur baby. This is perfect for any fur baby as well."
- Kalena Lane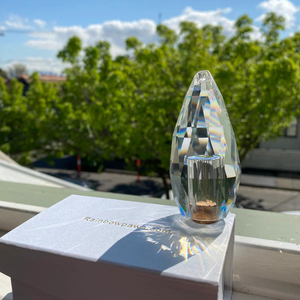 Blog
---
When a pet dies, it can be difficult for the owner to understand what is happening. Pets are such an important part of our lives, and their death leaves a...
There are many reasons why dogs make great family pets. They are loyal, loving, and always happy to see you. In this blog post, we will discuss the top reasons why...
Losing a pet is one of the most difficult things that a person can go through. Pets are members of the family, and their loss leaves a gaping hole in...